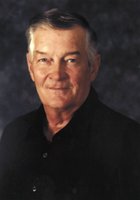 Jim Tainsh
Jim left us in the early morning on September 11, 2020 in the Consort Hospital at the age of 81 years old.
His life began on February 23, 1939 in the Consort Hospital. He shared his childhood with his two sisters Marlene and Nora-May and his mom and dad, Doug and Eileen.
As a young boy the family moved to Tees, Wetaskiwin and Lacombe. It was in Wetaskiwin that Jim began school, but after coming down with Rheumatic Fever and losing six months of schooling, he repeated grade one joining his sister Nora-May. In 1947, the family moved back to Consort to the John Tainsh farm and in 1948 Doug and Eileen purchased the "Bibby Farm" which was Jim's home for most of his life. He learned to work hard on the family farm, learning to get up early and help run the Consort Dairy which ran until 1962.
Jim loved to horseback ride and had his own horse called "Queenie" adorned with a saddle, martingale and bridle which he won in a draw as a young boy at the Calgary Stampede. As a teenager, Jim loved to dance, took up square dancing lessons and could really jive! Air Cadets was held after school and Jim loved it. Fred Bagory was the leader and Jim really respected him. He travelled to Abbottsford, B.C. for Air Cadets summer camp and earned many badges and pins including his wings. He said Cadets is where he learned to respect others and also how to be a leader.
On September 30, 1961, Jim married Donna Beebe at the Knox United Church in Consort, moved to the family farm and raised three children: Nonavee, Palmer and Dawn. During the next 40 years, Jim was involved in many community organizations such as at the Knox United Church as the Chair of the Board of Stewards, a session member and served on many committees. He coached Palmer in hockey until 16 and unders, was a Boy Scout leader, enjoyed Kinsmen, K40's, was an Arts Alive member and a 4H leader. Jim was a Remco Memorial salesman for 40 years, taking this over from his grandfather Jim Mudie.
Jim enjoyed playing hockey, curling, horse shoeing, playing cards, dancing, snowmobiling, Halloweening, being funny and being a prankster.
Jim loved to farm with his "green machinery." He always said, "There are only two kinds of farmers, John Deere farmers and those who wish they were John Deere farmers." He raised Hereford-cross, and Charolais cattle and built up the family farm. He was an excellent carpenter, electrician, mechanic, bookkeeper and progressive farmer. He fed cows over at Schoffs each winter with a stone boat and horse called "Pinto" until 1975.
Jim and Donna loved to camp, travel, boat and fish. As a family, they travelled each summer to various places in Saskatchewan, Alberta and BC. In 1979 Jim and Donna purchased a lot at Lake Mara Properties, and set up camp for good. There they met many "forever friends," and spent time fishing, boating and playing in the water. They started to travel abroad in the early 80's, to places like Hawaii, Mexico, Las Vegas, Aruba, Caribbean cruises, Grenada, Fiji and the Cook Islands. More "forever friends" were made. Later, they bought a time share at Fairmont so their family could enjoy winter fun at the ski hill.
In 1997, Jim and Donna retired from farming but continued to help out on the farm for many years.
Grandchildren brought out the "boy" in Jim again, as he loved setting up racetracks, building playhouses, building farm sets out of barrels and coffee tins, playing games, cards and crokinole. Probably his favourite thing to do with his grandchildren was to drag them behind the boat on water skis or tubes trying his best to drown them! They all have many stories of fishing trips and wild rides with their "Papa."
Jim lost the love of his life, Donna on September 5, 2002. He continued to live in their home in Consort until moving to the Lodge in 2016. There he enjoyed good friendships and all the activities. Students from the Consort School became dear friends, when they came to learn to play cards at the Lodge. Jim loved being with children and young people and they loved being with him. Jim was "fun."
Jim loved to talk about history and wartime and was so proud to be a Canadian. With that being said, his licence plate read, "God made Scots just a wee bit better." So….I guess we could say he was proud to be a Scottish Canadian!
Jim was an organized man, keeping his shop, his desk and any of his spaces neat and tidy. He was also a sentimental man, keeping cards, early letters from Donna, our childhood creations, newspaper clippings, land information and travel memorabilia.
Jim was a family man, and this was evident by his life's choices. Relationships were important to Jim and this was obvious as he met and greeted those around him. Jim touched many lives by showing great compassion, sharing his humour and the ability to listen to others. He will be greatly missed by his family and friends.
Memories of Papa
I remember riding around in his truck when he had the farm checking cows and looking at crops. Eating candies from behind the seat of his truck (bags of candies) and singing songs (the old gray mare she pooped on the double tree). Learning about farming and cattle and taking care of the family. I also remember fishing at Mara Lake. Calling back to Mama on the radio when we caught a fish to tell her to, "Get the butter" (and we caught lots of fish)!! ~Scotty~
Papa taught me what unconditional love looked like ..... Not very many people are lucky enough to find that kind of love in their lifetime. You were so proud of the love Kyle and I share. I loved how you opened your heart to him. On our drives together we always talked about when Kyle and I were getting married..... you just needed to know it was soon! Also my kids were so lucky to be loved by you. From sitting on your knee to drawing martians on their hands. Being at every birthday party. How lucky they were to have a "Big" Papa like you. I'm going to miss your hugs and your voice saying....."l love you sweetheart." ~Dee-Dee~
Papa, you were the best grandfather anyone could ask for. Thanks for all the fun times boating, fishing, hanging out on the farm and playing with your custom farm set you built us. You have created a farm legacy that will be successful forever. You were a great man and be remembered in my family for generations to come. Going to miss you so much. Love you Paps. ~Mitch~
I'm gunna miss fishing with Papa, talking farming and drinking a cold rum with him. Going to miss him being around the house sitting at the table ~Blake~
One of my favorite memories with papa is our trip to Mara Lake when he came with me. Papa was nonstop talking and the only worry on his mind was the potential to stop for soft ice cream at any town we drove through. He always had something witty to say and I'm really grateful to have had the opportunity to have so many memories with him. ~Eric~
Papa; funny, witty, clever, caring and always there for me. I miss you so much. I will always be grateful for time spent with you on and off the farm. You loved to laugh and tell stories -I loved that so much. No amount of pictures or memories will ever bring you back, but knowing you are looking down on our little growing family makes my heart happy-you would be so proud! Love and miss you so much Pops! ~Brett~
When we were out at Mara Lake on one of our boat tours to Albas falls and we had to make a pit stop at the outhouses. We took turns throwing rocks at the roof while papa was inside. He came out roaring like a bear, attempting to scare us, but tripped rolling down the mountainside ending up in the hedges in the bottom. We all had a good laugh. I will cherish all my great memories! ~ Morgan~
"The one thing I will miss most about papa is his daily drive out to see us all at the farm. He was always one phone call away to come out and help move fields or deliver lunch. Knox will proudly carry on big papa's name "James", something he was so proud about. Love you Pops" ~Steph~
The memories I will never forget with papa are going to the lodge any chance I got to play a game of pool. I never did win a game, but the lessons I learned and the laughter we shared will forever be cherished. Having a papa and having a good papa are two different things, I was lucky enough to be given an incredible one and he will never be forgotten. ~Mikayla~
Jim Tainsh is survived by his loving family, children: Nonavee (Brent) Kary of Veteran, Palmer Tainsh of Consort and Dawn (Larry) Resch of Veteran; nine grandchildren and eight great grandchildren: Scott (Kiley) Kary of Whitefish, Montana and their children Harper and Beckham, Ellyse Kary (Kyle Rohl) of Veteran and their children: Natalie, Hudson, Koen and Spencer, Blake Kary (Kayla Maksymiw) of Red Deer, Mitchell (Krystal) Tainsh of Edmonton and their daughter Hailey, Brett Tainsh (Selena Smigelski) of Consort, Stephanie (Danton) Berg of Consort and their son Knox, Deanna Tainsh, mother of Mitchell, Brett and Stephanie, Eric (Emma) Resch of Veteran, Morgan Resch (Morgan Sortland) of Sedalia and Mikayla Resch of Veteran; sister Marlene Kunz of Calgary; extended family of Nancy Tainsh; Jim's Consort Lodge family; numerous other family members and many dear friends. Jim was predeceased by his wife Donna on September 5, 2002, parents Doug and Eileen Tainsh and sister Nora-May Cowan.
A Private Family Funeral Was Held
Donations in memory of Jim Tainsh are gratefully accepted to the Knox United Church or Lakeroad Cemetery ~ Consort.
Nonavee and Brent Kary: P.O. Box 552, Veteran, AB T0C 2S0
Palmer Tainsh: P.O. Box 582, Consort, AB T0C 1B0
Dawn and Larry Resch: P.O. Box 651, Veteran, AB T0C 2S0