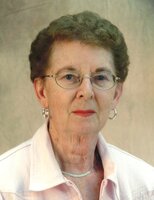 Dolores Eileen Fakas
In Loving Memory
Dolores Fakas
March 31, 1940 – October 16, 2022
Dolores is survived by her 3 children:
Nick (Kent) of Calgary, AB,
David (Melanie) of Calgary, AB
and Emerald (Ed) of Stettler, AB; grandchildren: Holly, Robyn, Tara, Denise and step-grandchildren Sarah, Evan, Tyler
as well as numerous other family
and many friends.
Funeral Service
Saturday, October 22, 2022
at 11:00 am.
Christ King Catholic Church
Stettler, Alberta.
Donations in memory of Dolores are gratefully accepted and may be directed to
The Stettler Health Services Foundation
Mail Bag 500 Stettler, AB T0C 2L0.
Stettler Funeral Home & Crematorium
403-742-3422
"Every Life Lived Is Worthy of a Celebration"
Dean Ross Corinne Adair Shannon Shirley Calvin Blauel
Matthew Kneeland Makyla Hiemstra