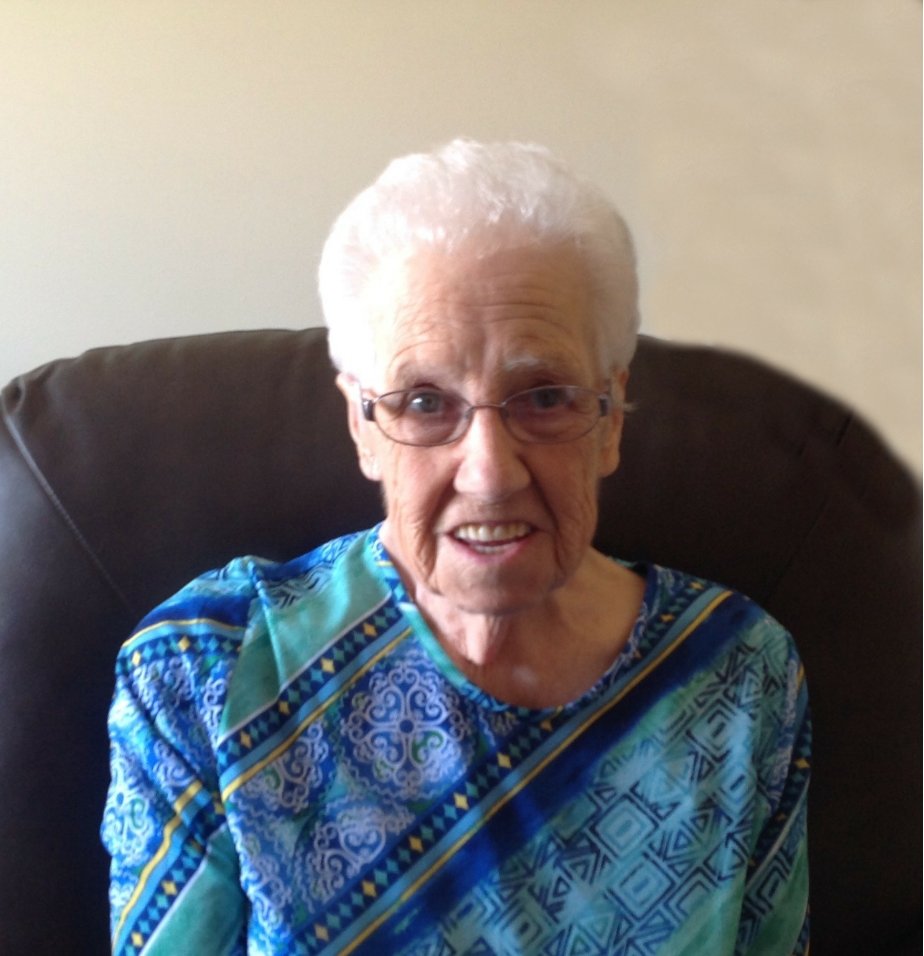 In Memory of
Esther Renschler
1929 - 2020
Private Family Funeral Service with online webcast access for friends and community
2:00 pm - 3:00 pm
Wednesday, June 10, 2020
Castor Knox United Church
0000-00
Castor, Alberta, Canada

Get Directions


Obituary of Esther Renschler
Esther (Engel) Renschler was born March 3rd, 1929 to Jacob and Lydia Engel. She was the second youngest child in a family of 14. She had 6 sisters and 7 brothers. This large family grew up North East of Castor in the Rosetta district. The two story home in which the Engel family grew up in is still standing strong and owned by her brother Alex. In one month time her youngest grandson Duncan will be moving into this home, keeping it in the family. As a young lady mom was brought up to work hard. After completing her schooling in Grade 8, she learned at a young age housework, gardening, baking, cooking and helping wherever needed. It wasn't all work, she loved to tell us how she played ball, went for picnics at the river or went visiting family and neighbors.
On October 2nd, 1949, she met the love of her life, Leslie Renschler and began their life together. To this union they raised 10 children, seven boys and three girls. Family was everything to mom. She worked hard every day to put food on the table – she knew how to make a meal go a mile as we all remember that there was always aunts, uncles, cousins and friends that arrived and she fed them too. They used to take a truck full of wheat to get milled, she remembers going through 1000 lbs of flour in a year. Mom used to cook 7 chickens for one meal, hoping for a few leftovers, but usually not. We all remember getting off the bus and she would have fresh baked bread for supper but it usually didn't make it to supper time as dad would have the crusts eaten and we devoured the rest slathered in butter and homemade jam. She made her own noodles, strudels, and everyone's favorite kniplaa.
Gardening and a green thumb were her expertise. She had acres of garden. She canned everything she could, each year, she had 800-1000 jars of produce packed away in the basement and by spring the shelves were getting bare. She loved tending to plants. When they moved to town in 1988, they still came out to the farm and planted acres of garden. Berry picking was also a favorite activity. She knew the best saskatoon spots. She would put on a hat and belt for the ice cream pail and no quitting until the pail or pails were full. Reminiscing this week, some remembered the clotheslines full of clothes. With several kids, there was a ton of laundry. Can you imagine, she did not have running water in the house until 1969 when the last "baby" was born. She had a building, we all referred to as the "wash house." Everything was neat as a pin and the laundry was no exception. Washed, dried on the endless clothesline, ironed, and put away. Each kid had a job, well except me!! Cause I was the baby!! If company arrived, unannounced, any clothes or coats lying around got chucked down the basement hatch!! What we all do remember is if we didn't do some of our chores or if we got a "bit" out of hand she kept "THE BELT" hanging on the door handle behind the door. Just a friendly reminder that she was in charge.
Mom worked so hard, but she always made time for some fun as well. Sundays were spent at the river fishing, complete with a wiener roast and snacks. She loved being with family. Her and dad did a lot of camping and fishing. Some favorite spots were the Narrows, Pillars, Mann Lake, or wherever the truck would take them. They had a truck and camper, motorhome, and finally a fifth wheel. Even camping, she managed to feed everyone and always had a fridge full of food.
In the later years, she loved just going for drives. Whether it was with Dad or one of us kids, she loved to check out the crops, see the harvest and maybe get a ride in the combine or even in on supper in the field. She loved it when they would see a baby fawn, moose or goslings. Mom loved the countryside. During the Covid lock down – she was so pleased when Rusty was able to send in some crocuses and pussy willows to her room as she wasn't able to get out to see them.
Mom loved games. She taught many of the grandkids how to play cards whether it be buck, crib or glischney there was never a deck of cards far away. She loved having games of 500 whenever a foursome could be found. She was a member of the Golden Circle club for years and helped organize many floor curling or card party events. Bean bags was another favorite. She loved taking on anyone that would play and she was a sharp shooter.
Mom was also an avid sports fan. She loved to watch hockey, baseball, and curling. She loved the "friendly" wagers that happened during playoff seasons when one of the kids or sons-in-law would lay down the bet. She usually was on the winning side of the bet!! She was very unhappy when all the curling events and hockey playoffs were cancelled this year.
In December 2006, mom and dad made the move to the Lodge – a place she called home for the next 13 years. She was an active participant in the Lodge and was always eager to help out. She never missed a bun or scuffie making session. She was always pleased to shine up her beautiful silver tea set to be used for the annual garden party and also had to get the girls to dig out her noodle making machine when they recently made homemade noodles. She never complained – she always said that "they are so good to her here."
Words that people have used to describe mom over the last few days are: Hard working, caring, fun, awesome, such a great lady, gentle soul, special lady, and loving mother.
Mom was all those things. She made her life about working hard, about dealing with life as it comes and never complaining, but most of all about loving her family. Mom always made her own decisions, right until the end. Mom's earthly journey ended Saturday June 6th, 2020, and she is now with dad.
She is lovingly remembered by her family:
Larry – Lyle (Tammy) & Ryan (Doreen),
Sheila Rompfer – Candida (Patrick) & Shauna (Mason)
Wayne (Louise) – Mark (Marie) & Michele (Ryan)
Jim (Susan) – Jody (Michelle) & Shelley
Cindy James – Tara (Greg), Paul (Shari), & Craig (Martina)
Brian (Sherry)
Charleen (Dennis) – Amanda (Wayne) & Angela (Tom)
Merle (Tammy) – Nigel (Sarah), Haylie (Blair) & Kendra
Rusty (Debbie) – Mallory, Clay, & Paige
Stacey (Marcy) – Carter (Sara) & Duncan (Ryleigh)
Along with 27 great grandchildren, her brother Alex Engel, sister in law Lilly Engel;
as well numerous nieces, nephews, and many friends.


Share Your Memory of
Esther