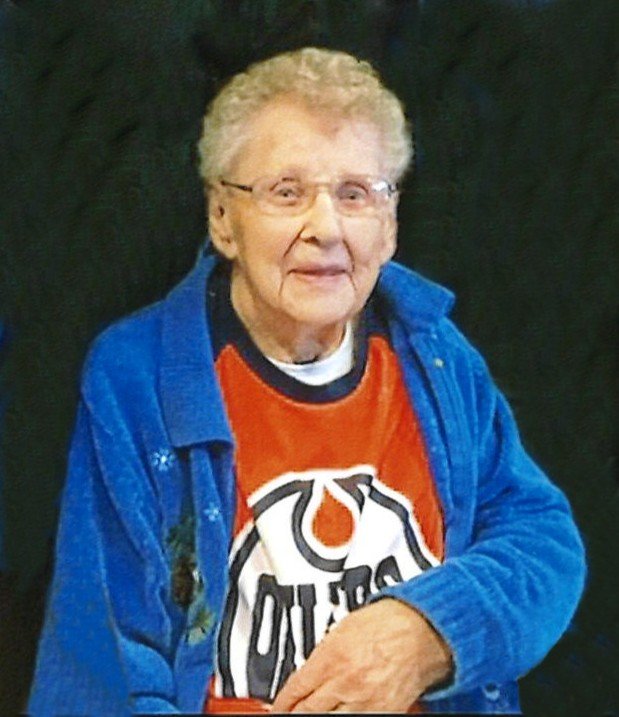 In Memory of
Mildred Lucy Konschuh
1920 - 2021
Service
2:00 pm - 3:00 pm
Thursday, February 4, 2021
Red Willow Cemetery
Unknown
Unknown, Alberta, Canada
Graveside Service

Get Directions


Obituary of Mildred Lucy Konschuh
Mildred Konschuh as I remember her - Gary
Mildred Konschuh was born (in the old wooden hospital two storey house before the brick modern one was built) at Stettler on January 23, 1920. Mother, Mary Peden got sick after the birth, aunts and neighbours helped look after Mildred. She thrived and her mother recovered. Her father farmed with his brother Walter and got in the garage business. As time passed her father Joseph decided to give up the garage business and move to a farm by the river near Hughenden. Mildred, a young girl starting school living in log cabin in the hills. She loved riding horses, playing school, and baseball with her sisters. She met a lifelong friend Belva and had a good time in the hills. They moved to a farm back in the Gadsby area where Joseph farmed with his brother Walter. Mildred as a young teen walked "uphill both ways" to attend school at Ingleton. She was older she went to work for Perrin McMillan to help his wife look after the new twins, (Margaret & Agnes). At this time she also did cooking for the hired men employed by the McMillan's.
Around this time Mildred and her sister Maxine moved to Vancouver and got an apartment near her older sister Jean and Jean's small child Gilda. Maxine was in the Navy; Mildred went to work at the Boeing factory building PBY float planes for the war effort. She worked as a riveter and drilling holes while crawling inside the wings and fuselage. Her and her friends had some good times while in Vancouver also.
She returned to Stettler and ran from Adam Konschuh thinking she would remain single. Adam would date her, being chaperoned by Adam's sister Evelyn to dances etc. Adam and Mildred wed January 21, 1947. They moved across the road to the little white house across the road from the present Konschuh farm a mile north of the Peden farm. Gary was born a couple of years later. They moved across the road to the two-storey Konschuh house when Adam's father John and mother Katherine moved to Red Willow. Four years after Gary, they added Denise to the family. Mildred cooked, cleaned, and looked after her kids. She and Adam always had a large garden with Mildred canning and preserving the production. Therefore, there was lots of food being prepared for whoever came to eat it.
In the mid fifties Mildred's back developed problems and had to be fused screwing bone to the side of the spine and she was in a body cast for six months. She underwent six more back surgeries to repair problems; disintegrating discs, bone spurs, and removing loose screws (from her back)!
They continued to farm until 1970 when Adam passed in 1970. She then rented out the land and sought employment at the Stettler Hospital Complex kitchen. She made sandwiches and salads for several years. She purchased a trailer which gave her a home in town. She worked at the hospital until she slipped on a jam packet and could no longer be on her feet all day so got a compensation pension. Mildred continued to live on her own until she moved into Heart Haven and sold the trailer as her knees were getting weak. She made new friends and quite enjoyed living there. As her legs were getting weaker and she had taken some falls they decided to send her to Points West. She was having more falls so it was decided Heritage House would be the place for her so she could be better looked after. She enjoyed joking with the staff and was quite content as she enjoyed having people around. Mildred invited her sisters-in-law Annie and Evelyn, and families on the farm and visited with them throughout her life. Entertainment was with relatives and neighbours; visiting, playing cards, cribbage, canasta etc. helped pass the time on the farm with families visiting back and forth. Both Mildred and Mary her mother were staunch Oiler fans looking forward to watching Number 99 Wayne Gretzky. Mary was mad when they traded Gretzky and quit cheering for the Oilers. Mildred was an Oiler fan until her passing. Mildred was also an accomplished Scrabble player and was extremely hard to beat with her dictionary by her side. She even played scrabble by herself maintaining that is what kept her mind going. The very short, condensed version of one hundred and one years!
Mildred is survived by her loving family: son Gary (Jen) Konschuh of Stettler; daughter Denise (Frank) Wiens of Stettler; grandchildren: Warren (Paula) Konschuh of Stettler, Jennifer (J.R.) Dechaine of Fort Saskatchewan and Barry Wiens of Stettler; great grandchildren: Brennan and Rylan Konschuh and Zoey and Evan Dechaine; numerous nieces and nephews, other family members and friends. Mildred was predeceased by her husband Adam; her parents Mary and Joe Peden; siblings: Jean Bury, Norma Robinson, Maxine Purves-Smith and Merle Peden; in laws Katherine and John Konschuh; sisters and brothers in law: Katie (Leo Ince) (Helmut Kruger), Dave (Jean), Raymond, baby Alex, Walter, Bill (Evelyn), Henry, Rosie (Orville Myers), Annie (Edwin Harrison), Ella (Alvin Nighswander), Kenneth (Kathleen), Evelyn (Howard Hinkle), other family members and many dear friends.
A Family Graveside Funeral Service Will Be Held
Donations in memory of Mildred are gratefully accepted to Stettler Health Services Foundation ~ Heritage House or Red Willow Cemetery.


Share Your Memory of
Mildred