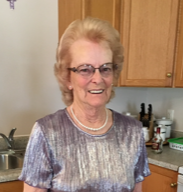 Obituary of Sharon Nola Skaley
Sharon Nola Skaley
April 5, 1939 ~ June 6, 2021
Our hearts are heavy with the passing of our mom, grandma, and great grandma. Sharon passed away Sunday June 6 at the Stettler Hospital at the age of 82. Our family is so thankful that we were all able to share time with her during her final days.
Sharon was born in Milden Saskatchewan April 5, 1939 to Fredrick and Helen Mitchell. The first 8 years of her childhood were spent in Kirremuir and then her family moved to Monitor. In her teenage years she worked cleaning neighbor's homes and later, spent time in Concert helping a farm family with domestic chores and making meals. She commented that this job required 12-16 hours each day of her, but Sharon was never afraid of long days of work. December 5, 1955 Sharon married Art Skaley and found themselves settling in Stettler where they would build their life together and where Sharon would call home for her next 66 years. Sharon worked for Thirsks for 5 years before children became part of their life. A baby girl, Beverley Dawn, came into their world February 18, 1960 and 16 months later their son, Lenard Dale, arrived June 8, 1961. Sharon was a stay home mom, but also a full time bookkeeper for her and Art's many business adventures.
Sharon will be remembered for her caring and kind heart. Throughout her lifetime she helped many friends that needed an extra hand. After Art passed in 2014 she volunteered her time at Heritage House and would be seen at Paragon Place or Willow Creek spending time with friends. She was very involved with the Stettler Legion as a volunteer and later became an executive member. She enjoyed many different roles promoting the Legion's activities and events. Sharon had a giving soul, an energy, and work ethic that was admired by all that knew her.
Sharon loved to bake and garden. Family and friends enjoyed her incredible cookie creations (especially at Christmas) and her friendship loaves, as well as her delicious jellies, jams, and assorted pickles.
Sharon was very proud of her 5 grandchildren and totally involved in all of their lives. Caring for them when they were young, being their #1 cheerleader in all their activities they participated in, and being their fun, supportive friend/Granny/Grandma always. The countless games, especially crib, and the laughs that accompanied those times spent together will be fondly remembered.
The hope of being a Great Grandma was fulfilled March 14, 2020 with the sweet arrival of Rey Belle Hebert. Sharon cherished the moments she got to cuddle and play with her great granddaughter!
Each of us holds special memories that will be treasured forever.
Sharon is survived by her son Lenard (Carolyn) Skaley;daughter Bev Konschuh; grandchildren: Parker Konschuh (Taylor), Rebecca (Jordan) Hebert, Jessica Skaley (Colby), Jeffrey Skaley (Jessie Anne and her children Lincoln, Cypress and Kasper) and Caylen Skaley (Stephen);great granddaughter Rey Belle; sisters-in-law: Darlene Skaley, Shirley Somer and Ruth Mitchell as well as other family and many dear friends.
She is predeceased by her parents Helen and Frederick Mitchell; husband Art Skaley; son-in-law Wade Konschuh; brothers: Lorne Mitchell and Ronnie Mitchell; brothers-in-law: Harold Skaley, Edgar Skaley and Jack Skaley; sisters-in-law Grace Dyson and Marie Johnson.
A Celebraton of Life Will Be Held At A Later Date
Memorial Donations may be made to Alberta Cancer Foundation or to the Stettler Health Services Foundation ~ Palliative Care Unit.


Share Your Memory of
Sharon