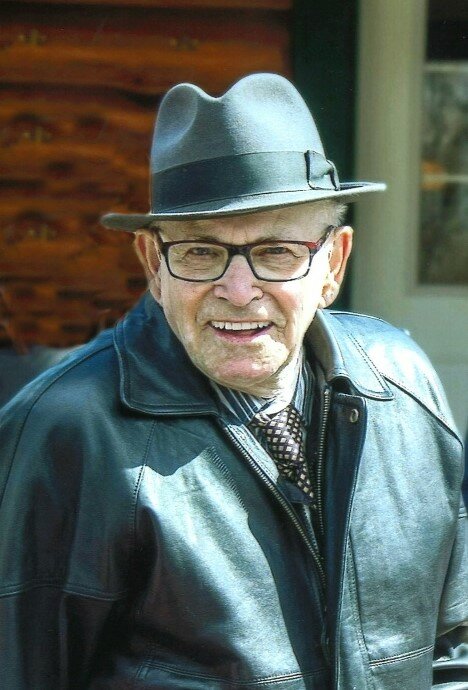 Funeral Service
2:00 pm - 3:00 pm
Wednesday, October 13, 2021
Lake View Cemetery
4201 - 89th Ave.
Stettler, Alberta, Canada

Get Directions
Viewing
Stettler Funeral Home & Crematorium
Box 1780
Stettler, Alberta, Canada
4037423422

Get Directions


Obituary of David Thiessen
In Loving Memory
David Thiessen
October 17, 1938 – October 2, 2021
David Moses Thiessen left his earthly home to be with his beloved Lord and Savior on October 2, 2021, just 15 days short of his 83rd birthday.
David was born (with no middle name) the third of 12 children in Swan Plain, SK on October 17, 1938 to Wilhelm and Maria (nee Martens) Thiessen. He did various jobs throughout his life including logging, being a ranch hand, holding the position of Foreman at York Farms in Lethbridge, farming, truck driving, heavy duty mechanics and a few others. But by far his favorite thing to do was drive.
He met Maria (nee Thiessen) in June 1959 in Taber, AB where her family was visiting David's family inquiring about beet work on a neighboring farm. They were married on May 15, 1960 (Maria's birthday) in Taber, AB. They resided in the Coaldale/Taber area for most of their married lives until moving to Stettler, AB in April of 2005. They welcomed 6 children into their family during their 61 year marriage. It was from these children that he received his middle name. David was a devoted husband, father, grandfather and great grandfather and he loved everyone well, with laughter and relationship. He enjoyed music, playing his guitar and singing solo or with a group. He especially enjoyed singing with Maria and his daughters.
He gave his life to the Lord early in his life, and later became very involved with his church serving as Board Chairman and leading worship for many services. He loved Horses, John Wayne and people and was always ready to share a cup of coffee and trade stories with a friend or a stranger. He was always ready with a helping hand to anyone who needed it. He will be deeply missed by everyone who crossed his path.
He was predeceased by his parents Wilhelm and Maria and his brother George Thiessen. He is survived by Maria, his loving wife of 61 years, his children: Christine (Floyd) Van Bergen, Dorothy (Warren) Johnson, Sandra (Ervin, passed away Oct 3, 2021) Abbott, Dave (Sherry) Thiessen, Ivy (Braun) and Aaron (Nicole) Thiessen, grandchildren and great grandchildren: Jesse (Dani) Van Bergen and children Aubrey, Emmerson and Corbin, Erin (Craig) Warren and twin daughters Grace and Whitney, Gayle (Scott) Forbes and daughter Anna, Travis Fehr, Stephanie Fehr and children Kyla, Brody and Faith, Victoria Van Deimen (Dillon Reinich) and children Connor, Noah and Theo; Shawn Fehr; Micah (Kirsty) Abbott; Kayla Abbott, Dusty Thiessen and daughter Vanessa; Amber Thiessen, Darian Thiessen; Chad (Andi) Braun, Toni Braun and daughters Callie and Blair; Shayna Braun; Sarah Thiessen and children Jude, Rowan, Courtney and Denise. He also leaves to mourn 5 Sisters and 5 Brothers, many nieces and nephews, and friends.
Funeral Service
Lake View Cemetery, Stettler, Alberta
Wednesday, October 13, 2021
at 2:00 P.M.
Memorial Donations may be made to STARS or to a charity of your choice.


Share Your Memory of
David