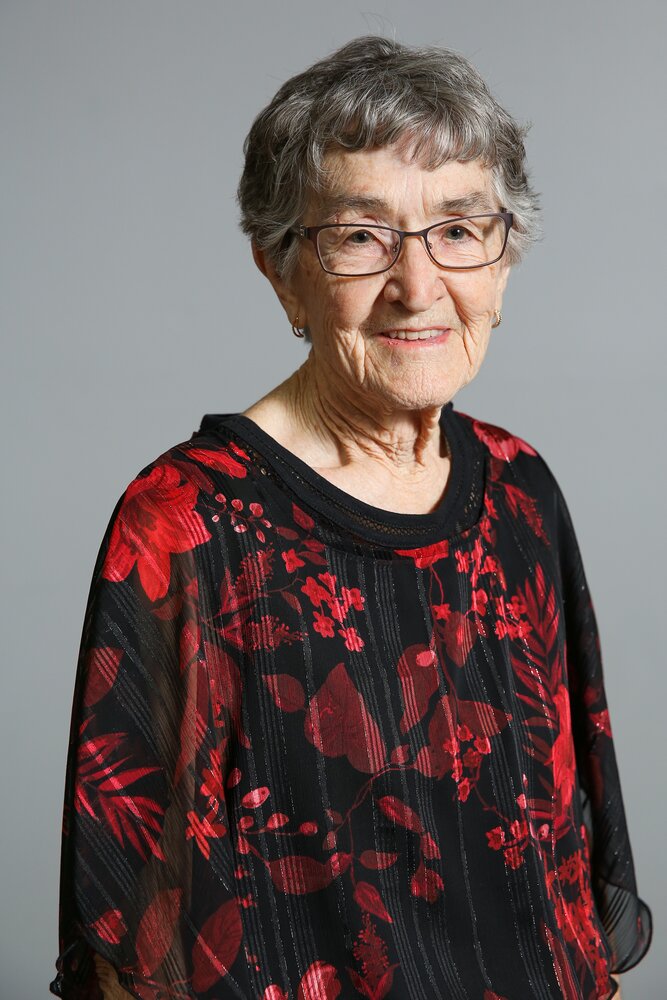 Obituary of Janet Eileen James
Please share a memory of Janet to include in a keepsake book for family and friends.
In Loving Memory
Janet James
Janet Eileen James was born on the farm at Lauderdale, Alberta on Dec 13, 1927. Her Aunt Marion was there to help her into the world. They placed her into a basket and put her by the heater on that cold December night. Her dad is remembered to have declared her to be the smartest of the bunch because she could lift her head while in that basket. She grew up on the farm with eight siblings and attended Lauderdale school until high school. She then attended school in Castor and boarded at the dorm there with her good friend and cousin Evelyn Marshall. After high school Janet went to Calgary to study at secretarial school and then returned to Castor and worked in the bank.
She met Des in high school and would attend the Saturday night dances with him. They married Oct 28, 1948. They moved to their farm a year later and spent many, many, too many years (according to mom) renovating the old farmhouse. Karen was born a year and a half later and Ken 2 years after that, Trudy 1.5 years after Ken, 4 years later was Joan and Pam 2 years later. Yes, she was a very busy farmer and homemaker with her 5 kids, immaculate home, garden, and community involvement.
Janet put many volunteer hours into various women's organizations including UCW, Royal Purple and Bulwark Friendship Club as well as leading the CGIT youth group.
She always had a huge garden from which she had to can or freeze so much of the extra. (there have been many arguments amongst the grandchildren over the years about who gets the last of the canned peaches) She worked on the machinery at the farm when needed, especially driving the grain truck. On top of that Des would often give her a day's notice of a trip to Victoria or some such place. Janet would miraculously pack up the family of seven, and make it happen.
Janet's skill as a baker was well known. Her baking was valuable on the school lunch trade, her chocolate chip cookies could bring in a big haul. Her apple pie was renowned in the community not to mention her chocolate cake. She also hosted wonderful holiday family dinners right up until she was 80.
She was also a fabulous Grandmother. Just ask any of her 12 Grandchildren and 22 Great Grandchildren. Mom is remembered by so many of us as providing such a complete sense of security, comfort, and without a doubt unconditional love. She made us all feel special to her.
Janet is survived by her daughter Karen and her children Shanthi (Brian) and Tristan; her son Ken (Rita) and their children Josh (Chantelle), Ben (Samantha), Adam (Becky); her daughter Trudy (Kent) and their children Korli (Don), Braelyn (Jeremy) and Kale; her daughter Joan and her children Mackenzie (Josh) and Morgan; by Pam's husband Dennis (Sherri) and their children Deni (Cora) and Drew (Ryan); as well as 22 great grandchildren; as well as her sister Ruth (Ed) and brother Russell.
Janet was predeceased by her husband Desmond; daughter Pam and six of her eight siblings.
Celebration of Life
Monday, July 4, 2022
100 P.M.
Knox United Church, Castor, Alberta
Memorial Donations may be made to Knox United Church ~ Memorial Fund.


Share Your Memory of
Janet