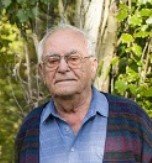 In Memory of
Arthur Ziegler
1930 - 2020
Private Graveside Service
1:00 pm - 2:00 pm
Wednesday, December 16, 2020
Lake View Cemetery
4201 - 89th Ave.
Stettler, Alberta, Canada
4037428400

Get Directions


Obituary of Arthur Ziegler
Arthur Ziegler
May 8, 1930 – December 11, 2020
Arthur was born on May 8th, 1930 in Kleczew, Poland, to Ewald and Natalie Ziegler. Arthur had an older brother, Richard, and a younger sister, Lilly. His parents provided a loving home where the children could grow up carefree and secure. Christian teaching and prayer were taught, and the family strictly upheld regular church attendance.
At the end of WWII everything changed drastically. The family had to flee in the middle of winter and after many hardships and through great danger they arrived at Peine, Germany. Here the family was reunited and could start a new life.
The city of Peine had a Baptist Church which offered a new spiritual home. At this time Arthur committed his life to Christ and accepted Him as his Lord and Savior. He was baptized on Easter Sunday, 1947. This gave new meaning and a new direction for the future of his life.
After finishing high school in Germany in 1950 Arthur and his brother Richard immigrated to Edmonton, Alberta. Here he joined Central Baptist Church which provided him a home to grow in faith and a home to mature spiritually. The friendliness of the people of Central Baptist Church restored his faith in the goodness of mankind. At Central he met Toni. She became his wife on June 2, 1956 and together they started life as a couple on a farm near Stettler, Alberta.
Stettler Baptist Church became his new spiritual home. It was here that Art and Toni were blessed with four children.
Arthur was always grateful for God's blessings and His guidance and protection that he and his family experienced over his lifetime. Throughout his life, with all its joys and difficulties, Arthur always trusted his Lord and took both blessings and hardships as promises that all things are given for a purpose and for the best. He loved the church and served it diligently. With gratitude to God, he was thankful that his children and their families follow God and are active in church life.
Arthur leaves to cherish his memory; Toni, his loving wife of sixty- four years; his children: Herb (Karen) Ziegler, Ken (Ruth) Ziegler, Donna (Gary) Horton and Carl (Roxanne) Ziegler; his grandchildren: Allan (Karla) Ziegler, Russell (Laura) Ziegler, Melody (Michael) Walters, Thomas (Kirsten) Ziegler, Katie (Joel) Entz, Erika (Tanner) Green, Ryan Horton, Tyler (Kaitlynn) Horton, Carissa (Chris) Stagg, Kayla (Kris) Stauffer, Joel and Julia Ziegler; seven great grandchildren; sister Lilly Sprenger; numerous other relatives and many dear friends.
Private Graveside services for the late Arthur Ziegler will be held at Lake View Cemetery, Stettler, Alberta on Wednesday, December 16, 2020 at 1:00 P.M. Memorial donations may be made to Mission Baptist International Foundation (771 Sargent Ave., Winnipeg, Manitoba R3E 0B5) or to a charity of your own choice.


Share Your Memory of
Arthur